Two Graduates from the Founder Institute, Better Weekdays and Lily, recently won the SXSWedu and accelerator competitions, respectively, at the annual South by Southwest festival. These wins come after several years of growing traction and fundraising for both companies, and further establish their already strong reputations.
What started out as straightforward music and film festival in 1987, South by Southwest (abbreviated as SXSW) has in recent years proved itself as a launchpad for promising tech startups, with Twitter one of the biggest companies to gain buzz in its early days at the 2007 SXSW Interactive. And now, two companies from the Founder Institute have the joined the ranks of auspicious startups who have made the mark at this high-profile event.
About Better Weekdays
Founded by CEO Chris Motley (a Graduate of the Chicago Founder Institute), Better Weekdays has developed a mobile career management platform that helps universities improve the job placement outcomes of its graduates, allowing them to maintain government funding.
Their flagship app, called "The Whether", is helpful for both job seekers and employers as it allows students to upload their resume and complete a personality assessment to match them with employers based on their skills and cultural fit, while employers can reach out to students by posting jobs and internships or through targeting students on the platform before, during, and after campus job recruiting events.
We want to personalize career pathways and we need to reduce friction to do that. Products often focus on one piece of the puzzle, like the employer, but that leaves out students and educators. The Whether brings these pieces together." - Chris Motley
Better Weekdays participated in the SXSWedu competition that focuses on early stage startups that support education, and walked away with the $2,500 top prize. However, this is far from their first achievement; since launching in 2011, Better Weekdays received $175,000 from the Missouri Technology Corporation in April of 2015, and was awarded $50,000 from the St. Louis-based nonprofit organization Arch Grants.
About Lily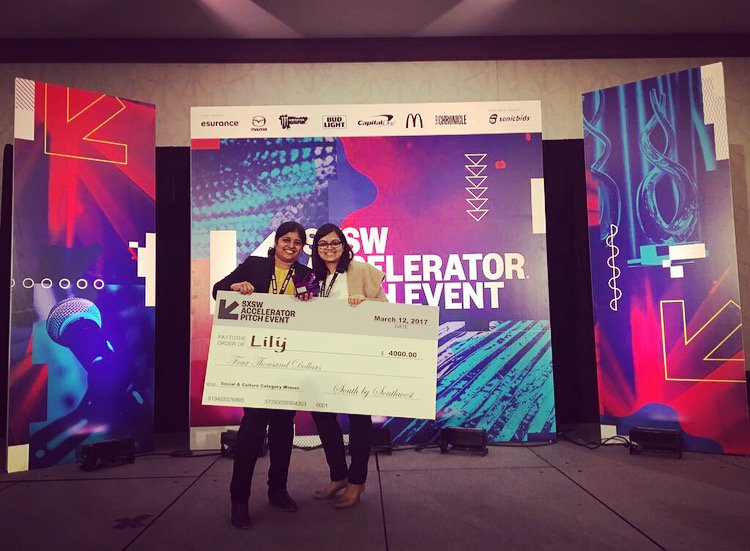 Lily is an app that makes personal clothing recommendations for in-store shoppers based on their body type, style preferences, and budget, helping apparel retailers and shoppers to personalize in-store shopping. Founded by Silicon Valley Founder Institute Graduate Purva Gupta, Lily's team has created an algorithm that uses advanced machine learning to match a customer's emotions and preferences to clothes in real time for both online and physical stores.
Lily's innovation comes primarily from its ability to "talk" to users, suggesting items from a database of thousands of current styles based on a user's physical and emotional preferences. As an added convenience, once users have found the clothes that suit them, they can make purchases directly through the app.
Women on an average get 13 negative thoughts about their body every single day. More than 85% of apparel is bought in physical stores, but users are still frustrated, confused and using trial and error to discover clothes in stores. I want to create the emotional intelligence that can solve these problems. " - Purva Gupta
Lily is the top winner of South by Southwest's ninth annual accelerator competition in the "Social and Culture" category, beating out more than five hundred other tech startups. Of course, you would expect this kind of success from someone as driven as Gupta, herself an alum of the Yale Entrepreneurial Institute, UNICEF, the Founder Institute, and Khosla Impact Fund. Oh, and she's only 27 years old, so expect big things from this young woman.